21st Century Music Works
MARIA CORLEY
TWELVE ETUDES
Copyright © 2004 Albany Records UK
---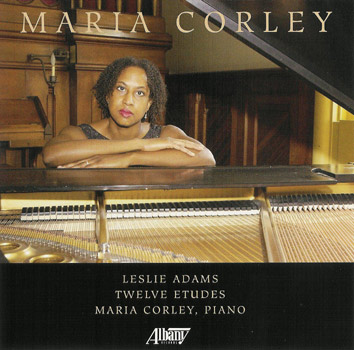 ---
| | | |
| --- | --- | --- |
| TRACK # | SONG TITLE | TIME |
| 01 | Etude In G minor | 6:14 |
| | | |
| 02 | Etude In G Major | 6:53 |
| | | |
| 03 | Etude In A Minor | 4:27 |
| | | |
| 04 | Etude In C Major | 1:54 |
| | | |
| 05 | Etude In D Minor | 4:06 |
| | | |
| 06 | Etude In D Major | 3:25 |
| | | |
| 07 | Etude In B Minor | 2:40 |
| | | |
| 08 | Etude In Gb Major | 6:28 |
| | | |
| 09 | Etude In Bb Minor | 7:30 |
| | | |
| 10 | Etude In Db Major | 7:27 |
| | | |
| 11 | Etude In C# Minor | 9:39 |
| | | |
| 12 | Etude In Eb Minor | 8:48 |
---
Jamaican-born, Canadian pianist Maria Corley, gave her first public performance at the age of eight.

Since then, she has appeared on radio, television, and concert stages in Canada, the United States, Central America, Bermuda, and Europe both as soloist and collaborative artist. Of special note are performances in Budapest at the Liszt Academy and in New York at Carnegie, Aaron Davis, and Alice Tully Halls.

Corley completed her undergraduate work at the University of Alberta in Edmonton, and received both master of music and doctor of music degrees in piano performance from the Juilliard School where she was a pupil of the distinguished Hungarian pianist György Sándor.

Maria Corley is a composer, arranger of music, conductor, and a published author. Having formerly taught at Florida A&M University, she currently serves on the faculty of Millersville University in Lancaster, Pennsylvania.
---
composer
H. Leslie Adams
pianist
Maria Corley
---
Copyright © 2004 Albany Records UK